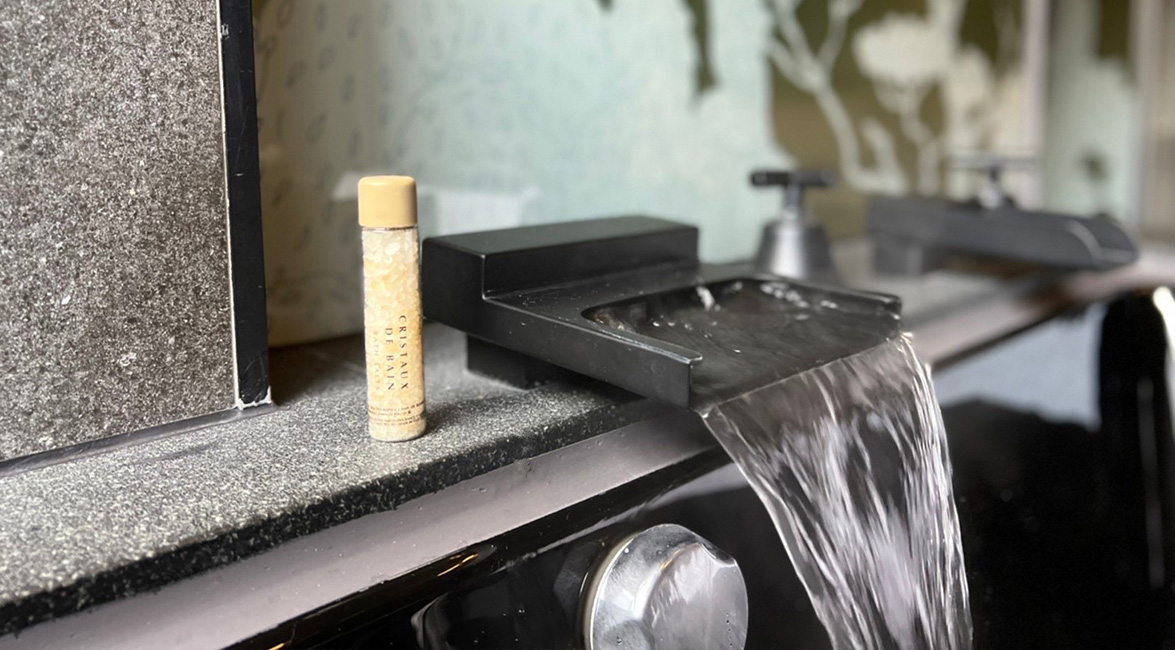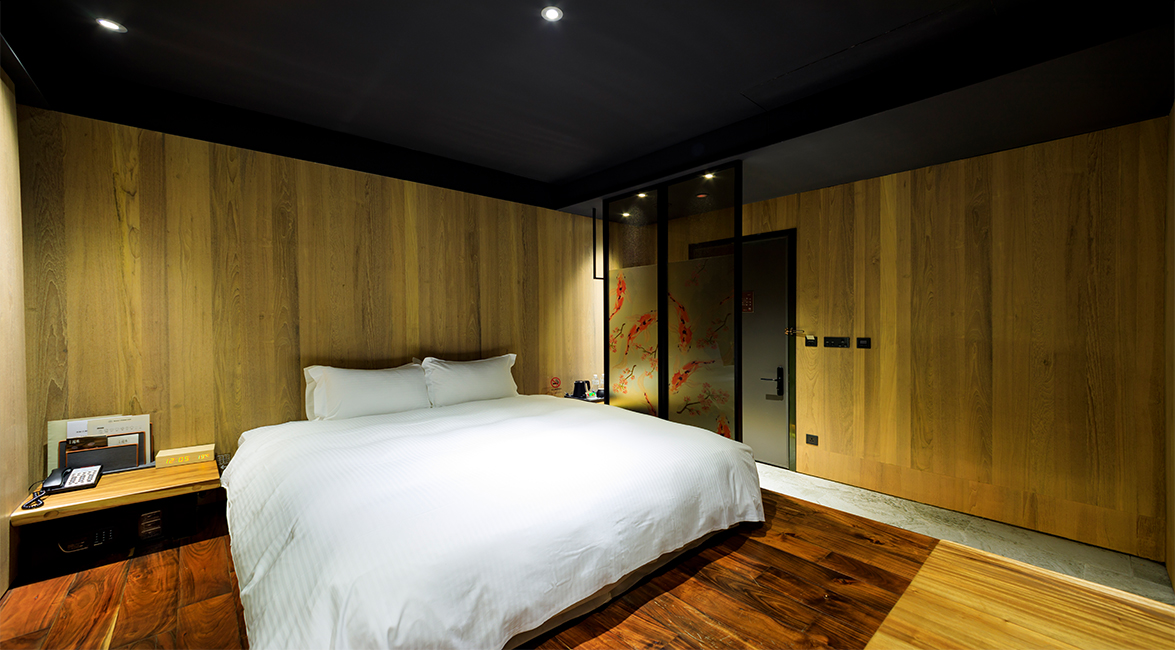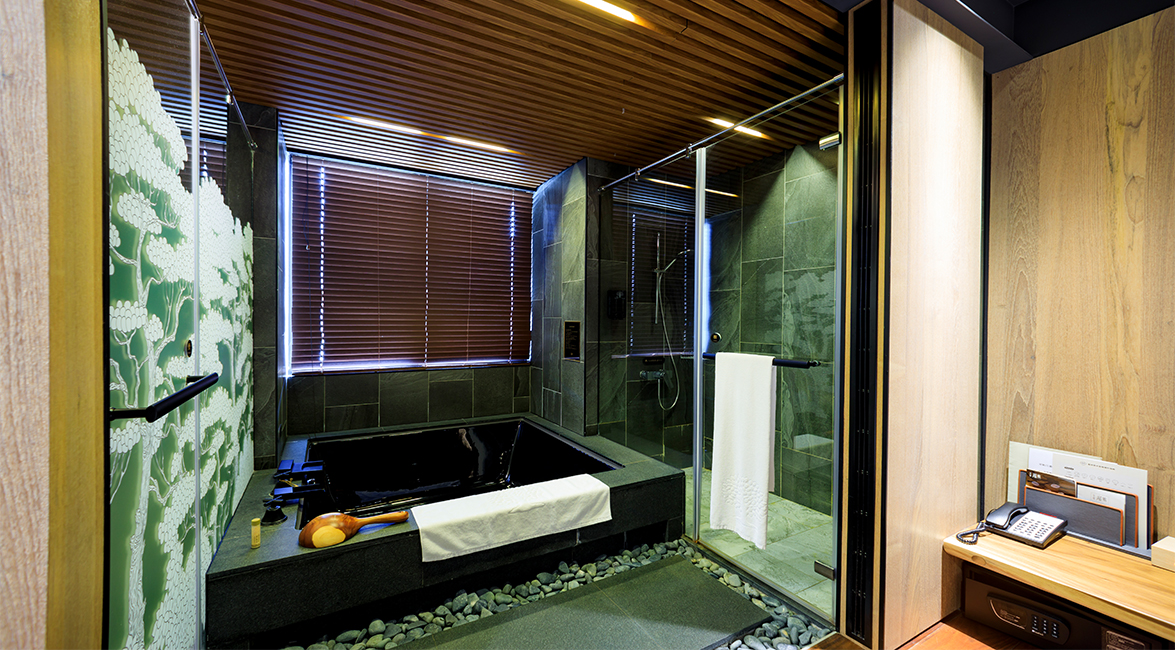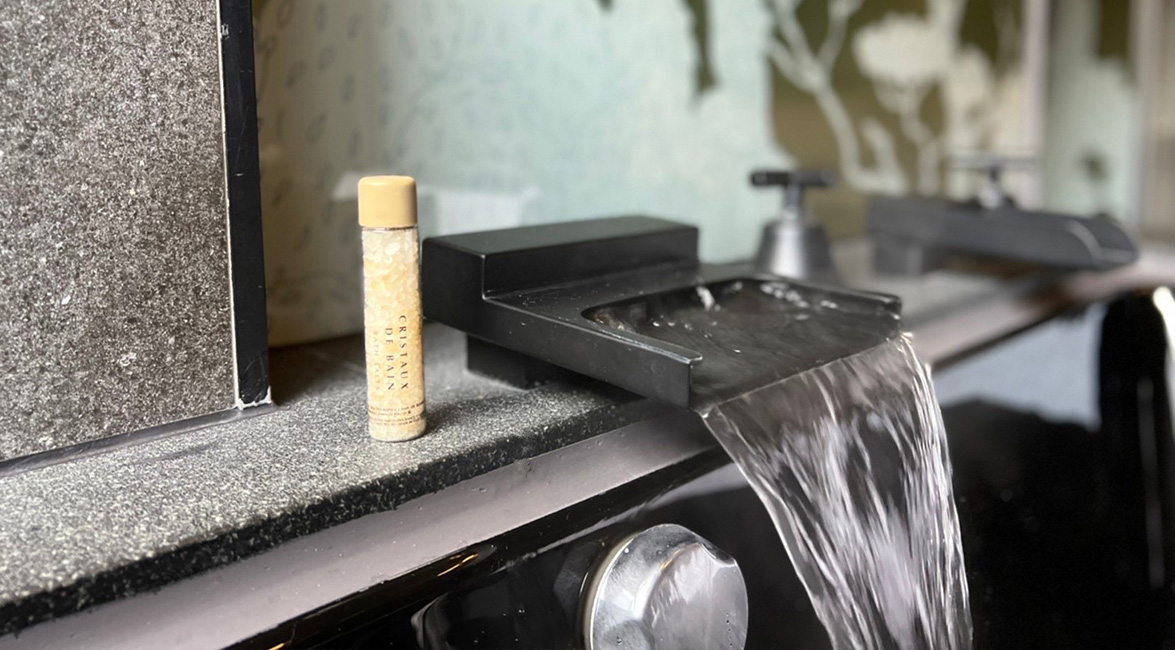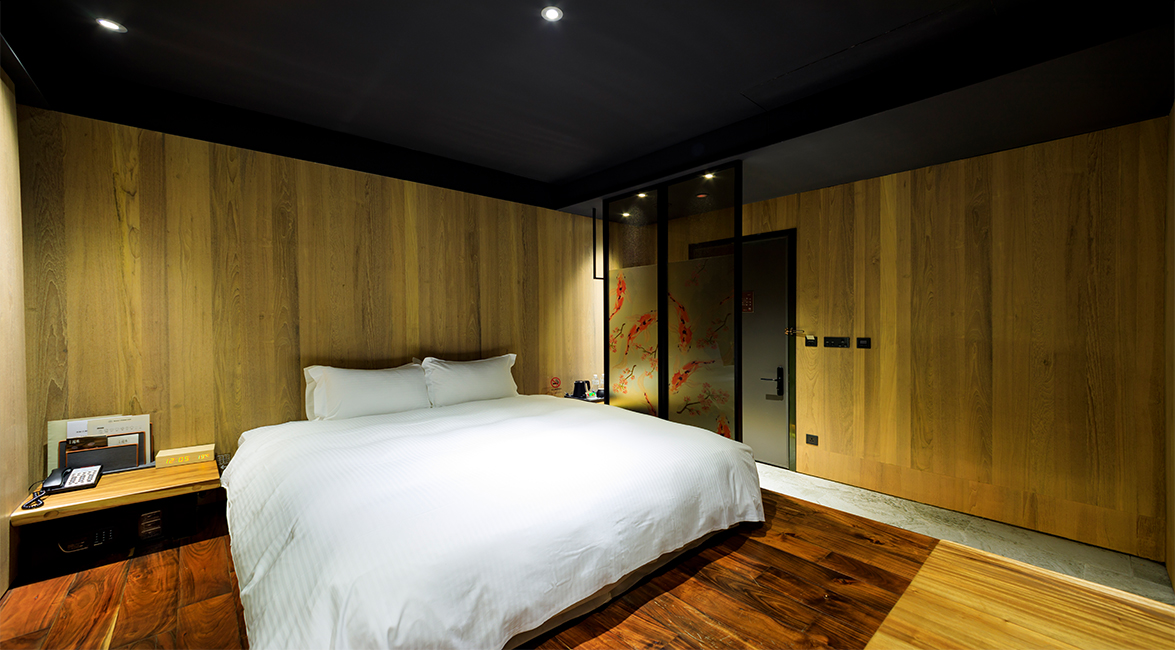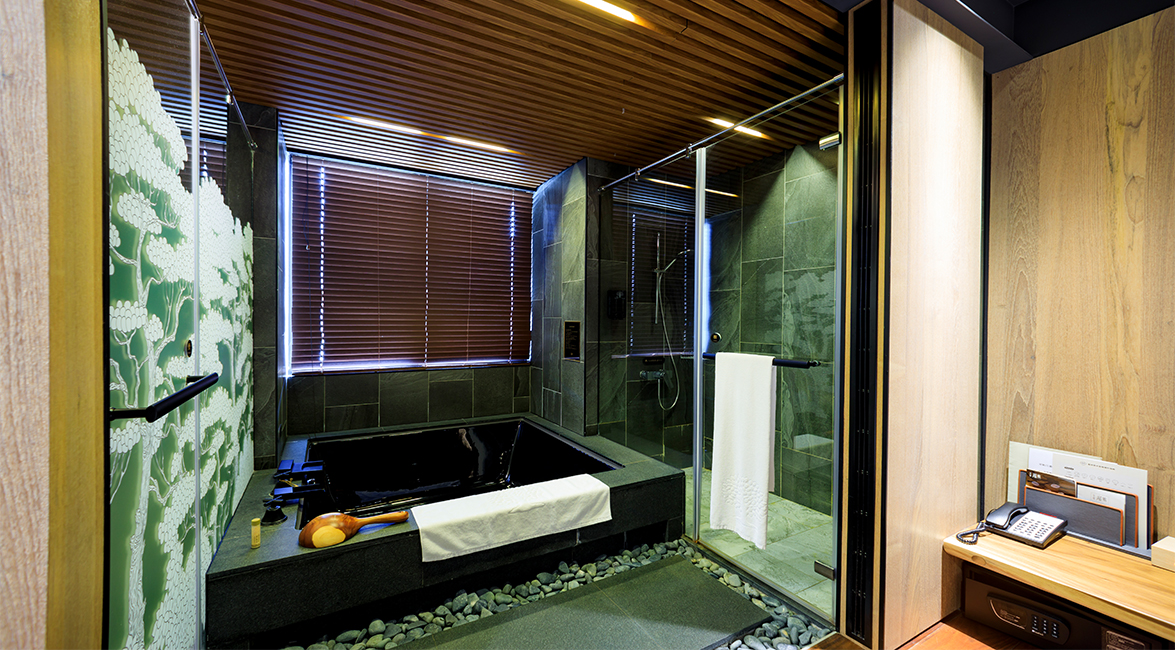 Stepping in this secluded room to dissipate fatigue, you feel like being in a heavenly place. This special Japanese-style room in Zen design will give the traveler the most memorable experience of hot spring bathing.

Situated on the 3rd to 10th floors, the 7 to 9 -ping (about 23.14 - 29.75 m2) Zen space is equipped with a double bed and a hot spring bath.

Each hot spring room has its own name - Ruoyue / Guanxing / Qingchuan / Wangyue / Yuquan / Yingying / Chengfeng / Hanmu, symbolizing the individual characteristics and attitude of "space" and "man" when they converse with each other. The room is crafted with natural elements, including stone, wood and floral design, to create a situational atmosphere where the body and mind are allowed to combine with nature. There is a Japanese-style side table and tea set in the room so that you can indulge in an elegant feast for the body and soul.

Shower room
It is separated into wet and dry areas to improve the safety and convenience of use. The square hot spring bath can accommodate up to two people at the same time.

Cotton bathrobe
Natural cotton bathrobes are provided in the room for a soft and comfortable touch. You are welcome to have the bathrobe on to enjoy the facilities and services provided by us in the most relaxed and delighted way in every corner of the hotel.

Hot springs
The more often you take a bath in the hot spring water from the town of Wulai, the more beautiful you will be, bringing you the most stress-free and awakening experience. The water quality of Wulai Hot Spring is clear and even drinkable, with the highest water temperature reaching 78 °C, pH 7-8, and about 848ppm of hydrogencarbonate ion and 417ppm of sodium ion in the water. Also known as beauty spring, it is a neutral sodium bicarbonate spring that has a repairing effect on the skin.
Guest room amenities
●Free mineral water stored in the eco-friendly fridge (Note: The fridge temperature, about 17~19°C, cannot be adjusted.)
●Taiwan Ten Ren's tea bags & instant coffee
●60" LCD TV & free TV channels
●Feather pillows, duvet and other bedding that give intimate touch
●Cotton bathrobe
Bathroom amenities
●Private Bathroom(shower in dry/wet separation, hot spring bath)
●Hair dryer, quality toiletries (shower gel, all-in-one shampoo& conditioner, soap, toothbrush set, shower cap, razor, comb, cotton swab)
Guest room facilities
●Inductive door lock & emergency bell
●Desktop telephone
●Central air conditioning (with no auto power-off memory function, so turn it on/off manually) & lighting system
●Electronic safe, mobile phone charging socket (USB / 110V)
●Fireproof building materials, smoke detector, automatic fire sprinkler, emergency lighting and central fire alarm
Chargeable services
●International direct dial
●Movie channel
Note:
※Check-in time: After 15:00; check-out time: before 12:00
※To ensure the accommodation quality of our guests, visitors are requested to leave the hotel before 23:00. Visitors leave after the said time will have to pay the accommodation fee.
※The above room rates do not include the use of aromatherapy spa, hot spring room, rock bath and other facilities.
※In compliance with the government decree, smoking is completely prohibited in our hotel. To maintain your health and the air quality, do not smoke in your room.
Attention: If you smoke in the room, you will be charged NT$ 10,000 for room cleaning upon check out.